Jess Whatcott, Assistant Professor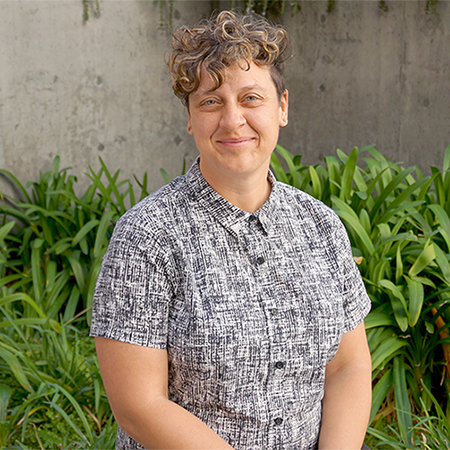 Office: AL 315 | Phone: (619) 594-2861 | Email: [email protected]
Website | Curriculum Vitae
Dr. Jess Whatcott (they/them/theirs) studies, teaches about, and organizes against state violence, with a focus on the carceral/prison industrial complex and state-sponsored eugenics. Dr. Whatcott is an interdisciplinary scholar working in critical disability studies, critical prison studies, queer studies/queer of color critique, political economy, American political development, and California history. In addition to their appointment in Women's Studies, Dr. Whatcott is affiliated with LGBTQ+ Studies and Digital Humanities. Dr. Whatcott earned a PhD in Politics, with emphases in Feminist Studies and Critical Race & Ethnic Studies from University of California Santa Cruz. A first-generation student graduate of the California State University System (Humboldt State University, BA 2004, MA 2011), Dr. Whatcott lectured in the CSU system prior to arriving at San Diego State University. Dr. Whatcott's scholarship and teaching are indebted to movements for feminist abolition, transformative justice, migrant justice, and disability justice.
Articles in Referred Journals
Whatcott, Jess and Liat Ben-Moshe. (2021) "Abolishing the Broom Closets in Omelas: Feminist Disability Analysis of Crisis and Precarity." Feminist Formations. 33:3 (Winter), 1-25.
Whatcott, Jess (2021) "Aiding and Abetting the Unruly Past: Queer and Critical Disability Studies Approaches to American Political Development," Politics, Groups & Identities.
Whatcott, Jess (2021) "Crip Collectivity Beyond Neoliberal Governance in Octavia Butler's Parable of the Sower," Lateral: Journal of the Cultural Studies Association, 10:1. Published online at: https://csalateral.org/section/cripistemologies-of-crisis/crip-collectivity-beyond-neoliberalism-octavia-butler-parable-of-the-sower-whatcott
Whatcott, Jess (2018) "No Selves to Consent: Women's Prisons, Sterilization, and the Biopolitics of Informed Consent," Signs: Journal of Women in Culture and Society, 44, No. 1, 131-153.
Book Chapters
Whatcott, Jess (2021). "Sexuality, Disability, and Madness in California's Eugenics Era," in Routledge Handbook of Disability and Sexuality, eds. Russell Shuttleworth and Linda Mona (London: Routledge).

Whatcott, Jess (2020). "'We Survived You': Resisting Eugenicist Imaginaries Through Feminist Speculative Fiction," in The Future is Unwritten: Representations of Political Resistance and Emancipation in Science Fiction, eds. Judith Grant and Sean Parsons (Maryland: Lexington Books).
Academic Blogs
Whatcott, Jess (2017). "Sexual Deviance and 'Mental Defectiveness' in Eugenics Era California," NOTCHES: (re)marks on the history of sexuality.
WMNST 608 Body Politics
WMNST 602 Methods of Inquiry
WMNST 596 Capitalism in Feminist Thought
WMNST 590 Feminist Thought
WMNST 341a Women in American History, part A
WMNST 341b Women in American History, part B