Irene Lara, Associate Professor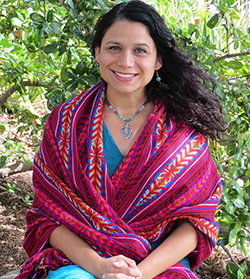 Office: AL 353 | Phone: (619) 594-7151 | Email: [email protected]
Academia

Irene Lara is a Chicana scholar, writer, teacher, femtor (feminist mentor), and spiritual activist who recently celebrated her twenty-year anniversary as a professor in San Diego State University's Women's Studies Department.She has an American Studies Honors B.A. with a Race and Ethnicity Focus from Stanford University and a Ph.D. in Ethnic Studies with a Designated Emphasis in Women, Gender, and Sexuality from the University of California at Berkeley. Born in Ensenada and raised in Chula Vista, she feels very lucky and blessed to be able to return to these Borderlands to work and raise her family. In addition to teaching an array of courses (see below), she was active in the Faculty-Student Mentor Program (FSMP) from 2009-2017 where she led the research and femtoring seminar "Curandera Scholar Activism in the University." Since 2018, Dr. Lara has been learning and teaching civic engagement alongside her General Studies 480 students. This course–"Storytelling to Transform Your Self and Transform the World: Engaging the South San Diego County Community"–partners with California Latinas for Reproductive Justice and Casa Familiar's Youth Center. As part of her work as a "CuranderaScholarActivist," Professor Irene Lara also loves to co-facilitate the spiritual activist/reproductive and sexual justice workshop "Panocha Pláticas: Healing Sex and Sexuality in Community," in addition to serving as the undergraduate advisor for the Women's Studies Department and faculty advisor for the Association of Chicana Activists student organization.
Dr. Irene Lara's scholarship largely draws on decolonial feminism, curandera praxis, and women of color and Anzaldúan theory to write about Chicana/Latina spirituality, sexuality, healing, pedagogy, and cultural productions. Her essays are published in journals such as, Feminist Studies, Aztlán: A Journal of Chicano Studies, Chicana/Latina Studies: The Journal of Mujeres Activas en Letras y Cambio Social, and Journal of International Women's Studies, as well as anthologies such as, this bridge we call home: visions for radical transformation (2002), Chicana/Latina Education in Everyday Life: Feminista Perspectives on Pedagogy and Epistemology (2006), and The Relationship Between Sexuality and Spirituality in Psychotherapy (2008). She also co-edited a humanities-based Women's Studies textbook with her colleagues Drs. Bonnie Kime Scott, Susan Cayleff, and Anne Donadey: Women in Culture: An Intersectional Anthology of Gender and Women's Studies (2016).
Her recent scholarship about Chicana/Latina mothering includes, "Sensing the Serpent in the Mother, Dando a Luz la Madre Serpiente: Spirituality, Sexuality, and Mamihood," in Dr. Irene Lara's co-edited anthology Fleshing the Spirit: Spirituality and Activism in Chicana, Latina, and Indigenous Women's Lives (2014; co-edited with Dr. Elisa Facio) and "Abrazos de Conocimiento Across the Generations: Chicana Mothering and Daughtering in the Borderlands" in The Chicana M(other)work Anthology: Porque Sin Madres No Hay Revolución (2019). Her current book projects are co-editing Anzaldúan Pedagogy: Toward a Pedagogy of Conocimiento (with Dr. Yolanda Venegas) and Decolonizing the Sacred: Chicana/Latina Spirituality, Sexuality, and Healing based on oral histories with women considered healers by their communities.
WMNST 310 Women in Cross-Cultural Perspective
WMNST 320 Socialization of Women
WMNST 336 Women of Color in the United States
WMNST 360 Women's Sexuality and the Body
WMNST 360 Women's Sexuality and the Body (Online)
WMNST 360 Women's Sexuality and the Body (Hybrid)
GENST 480 Engaged Citizenship and Social Responsibility: "Storytelling to Transform Our Selves and Transform the World: Engaging South San Diego County"
WMNST 499/597 (Faculty-Student Mentoring Program) CuranderaScholarActivism in the University
WMNST 512 Latina/xs in las Américas
WMNST 515 Women, Myth, Ritual and the Sacred
WMNST 536 Gender, Race, and Class
WMNST 565 Women: Health, Healing, and Medicine
WMNST 604 Gender, Culture, and Representation
WMNST 606 Narrating Women's Lives: Autohistoria, Autoethnography, Testimonio/Histerimonia, Oral History & Storytelling Projects
WMNST 612 Feminist Pedagogies